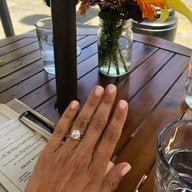 Joined

Aug 27, 2011
Messages

290
Hi! Since the folks at pricescope are SO helpful, and there is actually a colored stone forum, I thought maybe someone could help me!
My birthday is in May, so emeralds are my birthstone. I really want to own an emerald cut emerald. I honestly don't care if it is natural or lab created (unless I should for some reason!), but I want to make sure I don't pay a "natural emerald" price for a lab-created stone. Does anyone know of a reputable site that will sell me what I am paying for?
For instance, is Chatham a good place for synthetic stones? I would love a stone (not setting though) that looks like this:
http://www.chatham.com/Gallery4.php?productCode=CR6646W&catId=7&catCode=EM
Also, is there a reason why lab-created emeralds should be avoided?
Thank you!!!!