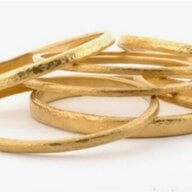 Joined

Jan 26, 2003
Messages

22,129
Wow! Leonid is certainly an excellent host! I asked and he created...within minutes!!!

I love gold charm bracelets. I have one and my ten year old daughter has one. I spend time looking for charms on the Internet and looking at vintage charm bracelets on ebay. (Often one can find a vintage charm bracelet laden with charms in 14 karat gold or a mixture of different qualities of gold that weighs up to 1/4 lb and sells for thousands of dollars. I love to look at those, imagining what it would be like to have a bracelet like that on my wrist!)

I am always on the lookout for charms, especially in 18 karat gold. I would also be interested in whether anyone has a source for 22 karat or 24 karat gold charms. The only ones I see are Asian ones in Asian designs...which wouldn''t blend in with my charm bracelet.

I am also interested in charms for foreign countries that are less typical than flat maps.

Does anyone else share my passion?