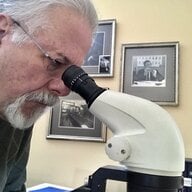 Joined

Sep 3, 2000
Messages

6,646
You often see the girdle thickness of a diamond as a single word description such as "medium" or "thin". Many diamonds do have reasonably consistent girdle thicknesses, but when they don't using a one word description can be misleading to truly dangerous for the consumer. Below is a list of all the possible combinations of words to describe girdle thicknesses. There are 45 potential combinations.
Med
Thk
Thn
Slthn
Slthk
Vthn
Vthk
Xthn
Xthk
Xthn-Xthk
Vthn-Xthk
Thn-Xthk
Slthn-Xthk
Med-Xthk
Slthk-Xthk
Thk-Xthk
Vthk-Xthk
Xthn-Vthk
Vthn-Vthk
Thn-Vthk
Slthn-Vthk
Med-Vthk
Slthk-Vthk
Thk-Vthk
Xthn-Thk
Vthn-Thk
Thn-Thk
Slthn-Thk
Med-Thk
Slthk-Thk
Xthn-Slthk
Vthn-Slthk
Thn-Slthk
Slthn-Slthk
Med-Slthk
Xthn-Med
Vthn-Med
Thn-Med
Slthn-Med
Xthn-Slthn
Vthn-Slthn
Thn-Slthn
Xthn-Thn
Vthn-Thn
Xthn-Vthn
Another issue is the use of the word "Average" when it comes to the girdle thickness of a diamond. If you have a diamond with Xthn to Xthk ranges, the "average" the industry often then uses is "Medium" to describe the girdle in a single word. Who benefits from this is pretty obvious. In fact, the diamond may have mostly Xthn or Vthn girdle with only a tiny spot of the opposite thickness. Then it isn't even a matter of a medium thickness girdle being found anywhere on the stone.
When an "average" is taken from measuring 8 or 16 places on the diamond it all makes more sense, but using the mid-range between two extremes can be dead wrong. Really, the right terminology should be "Mode" for the one word used when 8 or 16 measures are taken. The most common measure is probably a better indicator than the potentially non-existent range implied by using "Average". At least a "Mode" terminology would be some proper indicator of the overall cut of the diamond and a proper use of the words themselves.
Food for thought late on Friday before a long weekend.......