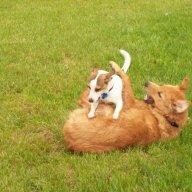 Joined

Jul 3, 2008
Messages

83
So my FI has still not decided on what to get his guys as a gift. We have four total, two best men (he couldn''t choose) and two regular groomsmen (my brothers). Here is the deal:
Best men: are both broke, and (I think) unemployed at the moment, living with parents. They don''t really ever dress up, so cuff links are out of the question. I don''t think they would ever use a flask, as they usually drink beer. We are thinking engraved beer mugs, since those may actually get used. But I don''t know if they would be used again after the wedding. I am trying to figure out something practical that they can use again, especially since they are broke. FI is thinking golf clubs and golf bags, but that is WAY more money than I want to spend, especially as there are two of them.
Groomsmen: So one of my brothers is 17 and the other is 22 and in college. My parents basically still pay all of their expenses, so there isn''t anything they really need. And they already have nice golf clubs (thank god

). I have no idea whatsoever what I can get them. My only thought is maybe some pro football memorabilia, since they both have a team they are really into.
Also I am currently only planning on spending under 50 bucks for my girls. (Maybe a little more on my MOH, so I am okay with spending more on the Best Men). And I may pay for hair and makeup, still deciding.
Help! I need some advice on this one.
Thanks!
Courtney