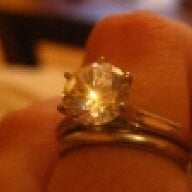 Joined

Feb 13, 2009
Messages

527
Hi everyone.... I hope all of you are going well today. I went this morning and spent sometime with my Mom when we started talking about my new princess cut solitaire that my Husband is going to suprise me with. I know he has done and ordered the ring and I''m thinking he already has it stored in his Dad''s safe, but says that he is waiting for a special occasion to give it to me. The only thing I can think of would be our anniversary that will be coming up after his Sisters wedding this spring.....
But back to visiting with my Mom... we were talking about my soon to be ring, when she went to her jewelry box and took out her ering that she wore for the last 5 years that my Dad was alive. After his death she put the ring away and just wore her gold wedding band, and me or my Sister hadn''t seen this marquise ring since! She brought it to me and told me that it would make her so happy if I would wear the ring as my sig. right hand ring!!!! I was so excited for her to give this to me! She said I could reset it if I would want to, but I think I will leave it as is for awhile and then maybe in the future I will reset. She said she would dig the papers out on it this weekend so that way I could put them away with all my other important papers.
The only stats I have on the ring is that the center marquise is .50ct and the setting has .75ct. And get this... the stone color is a K !!!! There was some K color talk on her the past few days in another thread so I was in shock when my Mom told me that this very VERY white diamond as a K!!! The ring came from a local jeweler that also sales H & A diamonds... but his prices are CRAZY!!!! So that''s why me and my husband didn''t purchase my new ring to be from him.
So All I can say at this point is
center stone : .50ct Marquise
color : K
clarity : I1...... believe me when I tell you this is the cleanest I1 stone I have ever put my eyes on in my life!!!!! This is just by what my Mom said... I''m thinking that it might be a SI1..
setting : 14k white gold with plat head.
Okay.... when it comes to pictures... I haven''t had much practice at taking pictures of diamonds, so bare with me on picture quality... they could be alot better. I''m hoping that my skills will grow by the time I get my princess... So here are some pics of my Mom''s ring and I alos took two of my .25ct wedding band that I''m wearing right now... the quality could be better. I will probably wear it with my princess until I find a very small micro pave diamond band to wear with it.
so here are some pics... tell me what you think... good and bad! Thanks for everyone looking!!!