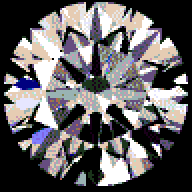 Joined

Sep 30, 2003
Messages

42
Hi all,
I'm in the market for a 4+ carat round brilliant with excellent cut. I previously had a AGS J stone mounted in platinum and never had any issues with the color. Now I found this GIA stone:
Measurements: 10.27 - 10.32 x 6.29 mm
Carat Weight: 4.08
Color Grade: K
Clarity Grade: SI1
Cut Grade: Excellent
Polish: Excellent
Symmetry: Excellent
Fluorescence: Very Strong Blue
Table: 57%
Depth: 61.1%
Crown: 34.5 degrees (15.0%)
Pavilion: 40.6 degrees (43.0%)
Girdle: Medium (faceted) 3.5%
HCA: 1.0 to 1.2
This stone is in my budget ($25K). From the photos, it looks pretty clean from the top. I'll get it in my hands soon so I can look at
Idealscope
images, H&A, etc.
Am I crazy to drop to K? I have a feeling that due to the cut it will look great from the top, but the color might show through the side, so a bevel setting or a setting that covers the pavilion might be best. I am hoping there is no cloudiness from the fluorescence and it helps to offset the color. But I'm scared that the K grade might have been in light with a UV component and the real color that would show indoor is something like M or N.
What should I watch out for with this stone?
I don't know the provenance but based on the color and fluorescence I'm guessing this stone is from the Premier mine in South Africa.
Also does anyone know a trusted gemologist I could take this to in the CA Bay Area and get a fair opinion?