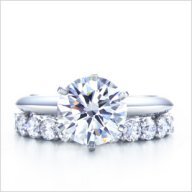 Joined

Dec 19, 2006
Messages

46
Hi There
Just a quick question - I am due to get my ER in two days........VERY EXCITED!!!!!!!!!!!
however I had a quick question about the GIA Certification. Are all GIA Certified diamonds engraved with the code number?
My ring is 1.6 carat so I don''t know if it is or isn''t.
I would be grateful if someone could please advise on thise.
Thanks in advance for your help!