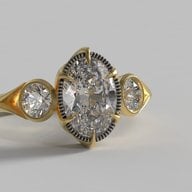 Joined

Oct 28, 2012
Messages

1,069
I've been off work a couple weeks now on a recommendation of my family doctor. I broke down in tears at work a couple weeks ago and a colleague of mine was adament that I see my doctor STAT which is what I did. So now what? I am on an anti-depressant, not working, how do I get out of this? It's not like i am crying all the time, I just want to sleep all the time...the only thing I look forward to is my bed. I don't want to go out but I get my butt out there to pick up the kids form daycare and school and to buy food for the family...that is it. The rest of the time I sleep.
I notice that the things I used to really like and enjoy such as eating, going out, shopping...I just don't care to do anymore. I put up a more "normal" face for my 3 and 5 year old and for my hubby who is really being supportive but I am so afraid to bring him down too. How do I get out of this?
I see my doctor again in a few days and I have no idea what to expect. I am so numb and zombie like right now I cannot imagine returning to work and having to care for ill patients (I work in health care).
I honestly just feel like disappearing and being alone; Everything else just overwhelms me...like I am overstimulated or something....
I used to be such a go go go person with such fire....i used to be fired up visiting my clients at home....always excited to meet new clients and see what kind of new case I get. Now, I really don't wanna see anybody.
Anyone been through this? How long does it take for me to get my life back? To get life BACK INTO me? I am also so afraid of the drugs my doctor prescribes me....I have never ever been on meds before....well. just asthma puffers ..that's it.