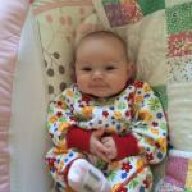 Joined

Jun 23, 2011
Messages

1,442
So DH and I are entering the "not ready to TTC but ready to be off of BCP" stage of things. I've made my preconception/diaphragm appt for Oct because we aren't ready to actively try yet, but I want to get back on track/temp cycles for a few months before jumping feet first into the TTC pool.
Now I'm wondering what can I expect when I go off of the pill. I've been on Yaz for about four years now and I have to admit that while I'm excited to get off of it, I'm also a little terrified! I haven't had a period in a year, or really any AF symptoms beyond a little moodiness and bloating. I've been on it for so long that I can't really tell anymore if I'm having good or bad side effects from it. I know I'm struggling to lose weight and I go through what I call the "meh's" (not happy, not sad, just "meh" and low drive). So I'm hoping it'll help those two things.
Anyhow, I tried to find a thread I thought was posted about this topic, but I can't find it anywhere! So apologies if this is a rehash (and if anyone can point me at the thread, I'd be eternally grateful!).