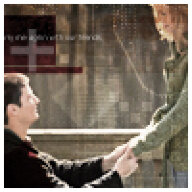 Joined

Jan 25, 2007
Messages

49

Hi everyone! I''m new here. I posted once a while back, but have been lurking ever since.
My boyfriend and I have been together for 2 1/2 years. We''ve been living together for 1 year of that time. Everything has been glorious between us from the start, and keeps on getting better and better as time goes on. We have a great life together and make each other very happy.
However, I''m itching for a ring.
I sooooo do not want to be that girlfriend who pressures her guy into it, but I''m feeling pressure to get engaged right now. See, my boyfriend''s cousin proposed to his girlfriend right before Christmas. They have only been dating for one month longer than we have, and don''t live together yet. So basically, they are not moving in together until after they get married. Plain and simple, they think they are so righteous because of that, and it is really very annoying. Of course, then I get into thinking, well they have been together about the same amount of time as my guy and I have and they are engaged already, so why hasn''t my guy popped the question to me yet??
Part me feels really silly for being so jealous. I''m not 100% ready to get married right now, although I would happily accept a proposal anytime. I don''t feel like 2 1/2 years of dating is long enough to get engaged at the age we all are (24 and 25). I think I would feel more comfortable waiting anothe year or so, but I feel the pressure because the other couple is about to take the plunge.
I don''t know what to do to put my mind at ease, or to stop feeling envious over the whole situation.