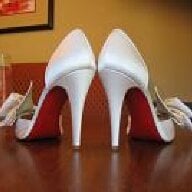 Joined

Nov 13, 2007
Messages

5,720
For those that may not know, I live in Houston where FI's entire immediate family lives, except for FSIL who is a dancer in NYC (and is a BM). The wedding is being held back in DFW where I am from and my family and 3 of my BM's live. (Not including one sister who is a BM)
Previously FMIL offered to throw me a shower which was going to be on a house boat on the lake. I was super excited about this and we were planning for it to be the same weekend as FI's Bachelor party, the first weekend of May. All the BM's from home were planning on coming down.
I'm having a small shower in 2 weeks (10 local people here in my suburb, mainly girlfriends/wives/fiances of FI's friends and 2 of my BM's). It will include many of the people that would be invited to the "lake" shower in May. I have worried about inviting people to 2 showers, then Bachelorette party, and then the wedding. I DON'T want the same people to give us that many gifts.
Talking with FMIL last night, we discussed how many of the charter companies in the area will not be running by the beginning of May, if they are re-opening at all. (Because of the Hurricane) Well, very generously, she offered to pay for the Bridal shower back in Dallas if I would prefer that more. My mom is on the golf course right now, so I can't call her... but who is usually supposed to pay for this?? Is it the bride's family??
The other thing I have begun to think about... is how many times will his sister need to fly back to Texas? She will not be coming to the small shower, but would more than likely come to the "lake" one, then the bridal shower that would be around a month later, and then back for the wedding a month later. I'm thinking that if it's not too terribly against etiquette, then FMIL's generous offer to pay for the Bridal shower would be a great idea.
What are your thoughts? If this has been too scattered, please just ask me to clarify and I will.