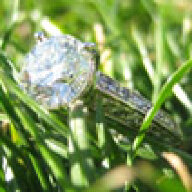 Joined

Feb 20, 2009
Messages

63
Hey everybody...been diligently reading and studying PS and
GOG
''s tutorial the past couple weeks. Have some general questions I thought the pundits might like to discuss!
1. Is it a general rule of thumb (there are exceptions, of course) that a stone with great optical symmetry will ''perform'' better than a stone with poor optical symmetry? Optical Symmetry leads to better diamond performance? Or is optical symmetry just a more desired pattern of performance that is more aesthetically-pleasing to the human eye, cognitively-speaking, since we are partial to structure and organization?
Sort of like a presentation of a meal at a fancy restaurant neatly arranged on a white plate as opposed to the same food being plopped on a paper plate in a hole in the wall...the food tastes the same but one presentation is more preferable...
Take two identical stones but one is a H&A, the other isn''t close to H&A. Will the H&A sparkle more or the same, just with a structured pattern?
2. Reading
GOG
''s tutorial, the ''checkerboard'' concept is discussed...However, I haven''t located any information that identifies what the diamond''s checkerboard is...Am I missing something in the ASET, IS, DiamXray, etc images or is checkerboard currently not measured?
I''m guessing that the thinner the arrows are, the more complex the checkerboard is, no?
Is there an accepted vocabulary for comparing checkerboard, ie basic/complicated or normal/above average or 1-10?
3. Solasfera''s and the modified diamonds...Just more complex checkerboards or they actually perform better than a true H&A/HOF/
ACA
?
YOU GUYS ROCK!