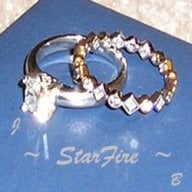 Joined

Mar 24, 2007
Messages

6,232
Inspired my mochiko42's amazing ring, I decided to pick up a piece of gem silica. Turns out that the stuff ain't cheap! Not seeing much else, online that combined good quality and reasonable prices, I picked this up from Chris A. The color and translucency are really awesome, but the elongated shape is the only thing I had reservations about. I wasn't sure at first, but now I think it could actually work as a ring. I have pretty long fingers, so I can carry the 16mm of length N/S. It could also work E/W, although I prefer N/S if I can widen the shape with some metal.
First 2 pics aren't mine, but the show the color better than my own pics do. The ones on my index finger show you an idea of how it would look N/S or E/W. For size reference, my index and middle finger are both about a size 8.5, and my ring finger is a 6.75.
Show us your gem silica!