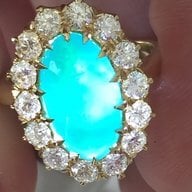 Joined

Aug 17, 2012
Messages

488
Acquired a lovely 3.06 carat Arizona Gem Silica from Brad at The Gem Trader almost a year ago and it's been sitting in my gembox.
http://www.thegemtrader.com/June15ChrysoPage.htm
Surprisingly, it has slightly different hues depending on the light source. I hadn't expected that with a cabochon. So there you go, I learnt something new about the world of gemstones.
I just loved the colour but it took me a while to come up with a setting a liked as I wanted a slightly Victorian setting without it looking old. A bit weird, right? The stone itself loved yellow gold so that was the metal of choice.
The first wax had much smaller diamonds in it which just made it look like any other modern setting so I told the jeweler "mate, up the size of the stones as big as will fit" so we ended up with stones just about 0.08pts for a tcw of about 1.05
This is what I got and I love it. It's comfortable and has massive finger coverage. It's lovely with jeans and a white shirt, a cocktail dress or my boring black business suit.
Happy I am.