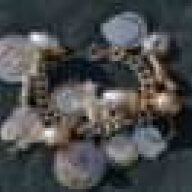 Joined

Nov 29, 2008
Messages

735
I have been searching for ages for just the right piece (or pieces) of "mom" jewelry to represent my four kids. I''ve fallen in love with the Singlestone eternity bands-the ones with the alternating round diamonds and colored stones that are each set in a filigreed bezel. Lucky for me, two of my kids have April b-days so their birthstones are diamonds. The other two are November which is garnet, and January which is citrine or topaz. I''d like to wear the four bands stacked on my right hand sometimes and maybe sometimes with my ering-one, two, three or four at a time.

So the question is whether I should go with the ready made SS band which alternates rubies and diamonds or have one custom made with garnets and diamonds. Is such a thing even possible? Would it be hard to find the small stones? Similar question with regard to the November b-day: ready made with white and yellow diamonds or custom with citrines/topaz?

What do you guys think? Sentimentality or easy/practicality?