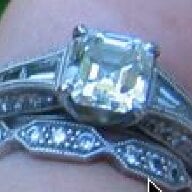 Joined

Jul 27, 2005
Messages

11,534
What''s your next "big" anniversary? Do you have a particularly coveted item all picked out?
I know it''s kinda silly ...because by the time I actually GET to my 5 yr. or 10 yr. anniversary -- I''m SURE my tastes/desires etc will have changed ... but: I have to dream SOMEHOW! And x-mas and/or 2007''s not shaping up to be blingy for MOI. So...
For my future 5th? 10th? anniversary I will dream of: THIS PINK BAND DAMMMISSSIT!
I''ve loved Jennifer Garner''s version & Kitten Kat''s beauty ... but this is a kind of
Ritani
-like, channelesque yet super teensy sparkly beaut that''s PERFECT FOR MEEEEEEE!







It has usurped any other blingy fantasies I have ever had. It calls to me in the night. It''s twinkling ghost levitates imaginarily between my e-ring & w-band ... SIGH.
DH was away at a conf and during our catch-up call ... out of nowhere ... I blurt "Do you think I get a sparkly pink diamond eternity band for our 10th anniversary?" He just laughed about how RANDOM that question was & quipped something about my lingering bling-lust. The verbal equivalent of an

. But the important thing is he did not say NO!


You can tell how spontaneous it must have been because I didn''t aim for anniversary #1, #2 or #5.

HOW ABOUT YOU GUYS??? Am I the only crazy-go-nutzo long-term luster???