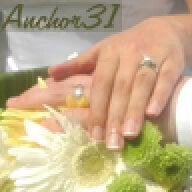 Joined

Oct 18, 2005
Messages

7,074
I''ve read a few stranger encounter stories on here, about people commenting on bling, straightening up a ring (

) and such, some scary, some plain weird, so I thought I''d start a thread about funny stories brought on by our beloved stones...
I had a pretty funny incident yesterday. I was walking on campus from the building where I have my morning class to the building where I have my afternoon class, when a woman grabbed my left hand to stare at my ring.
Woman: OMG! It''s so GORGEOUS! I''ve never seen such a sparkly and beautiful ring of that
size
before in my life!
Me: *quickly pulls hand away* Erm, thanks.
Woman: You look so
young
to be married! How old are you?
Me: Oh, I''m 21. We celebrated our 3rd anniversary last August and we''re hoping to get pregnant next summer once we''ve graduated.
Woman:

Me: *walks on, giggling*
Of course, none of it is true except my age; we''re not married yet, FI''s been out of school for 2 years and we''re not planning on kids for
at least
5 years, but the look on the woman''s face was just
priceless
!


Any funny stories to share?