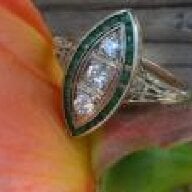 Joined

Aug 5, 2010
Messages

12,727
Greetings good people of Diamonds; I am from neighboring Colored Stones and bow down to your diamond knowledge. I know I can ask this question over there, but I thought I'd go to the source for the real expert info.

Here is my question: for some time, I have been under the impression that full cut diamonds are better than single cut diamonds because 1) people prefer them; and 2) they cost more. I recently ordered some mounts with diamonds, had a choice between single and full cut, and ordered the full cut because that's what everyone else seems to do (over in CS). Upon receiving them, I noticed that they have much less sparkle than I was hoping for in diamond melee. In another thread recently, someone mentioned that single cut melee are typically more sparkly than full cut melee, which has me wondering why would someone pay extra for less sparkly diamonds? What am I missing here?

Please good people of diamond land, solve my riddle so that I can once again can live happily in the land of Colored Stones...