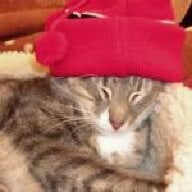 Joined

Aug 14, 2009
Messages

26,404
I had a PS vendor (PS vendor? Dunno. Popular vendor on PS, anyway) make me a bracelet some weeks ago.

It arrived on schedule, beautiful bezels, beautiful chains. One small problem: the chains were attached such that one bezel always faced up and the other always faced down, and if I wanted both to face up at the same time the one of the chains had to twist. I explained the problem and sent it back last Monday.

I received the 'fixed' item yesterday. The original problem is fixed, and a new one of much the same type has been introduced: the chains on the double-strand cross in the natural configuration, and there is no way to make them un-cross without twisting the other side!

It's been a long, tiresome week - I lost my grandmother, despite my best efforts it doesn't look like the move to Albany is going to work out and there's nothing more I could have done, but I feel horribly guilty anyway, and I was really looking forward to getting this bracelet back - it was the week's Good Thing. And I'm so frustrated that this passed quality control - I was assured by the head of the operation that it was personally inspected, and yet - there's the problem, clear as day! I almost broke down at the fedex facility. Yes, it's a simple little thing, and a stupid little thing to be getting so emotional about, but I paid a not-stupidly-little amount of money for it - and a vendor that prides itself on quality of pieces produced should not be making simple little mistakes like this - twice in a row on the same piece...


GAH.


Well, here's to hoping the local jeweller I took it to in exasperation can fix it.