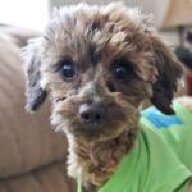 Joined

Mar 8, 2009
Messages

54
Hello Pricescopers!!
I am a little frustrated with trying to purchase my wedding band. When buying my Engagement ring I felt like everyone was bending over backwards to make me happy and to make my purchase smooth and easy. NOW, I am trying to "source" a band that I would like/can afford and I feel like its pulling teeth trying to get the SAME vendor who sold me my engagement ring to even return my emails!! I am sort of fed up! Are wedding bands just not as important to these businesses because they aren't as expensive? I really want to give them my business again because they were so wonderful with my Engagement ring but REALLY. I hate having to email people REMINDING them that I am waiting for a reply so I can spend MONEY with them!!!!
Sorry. I needed a vent.
Any suggestions?? I am really just looking for a 3/4 eternity band, about 3mm to 3.5 mm in width with round diamonds and not the "boxy" look. My Engagement ring is a 1.5 carat round stone in a 6 prong solitaire. Thanks everyone!