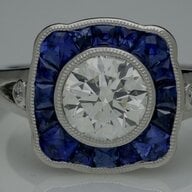 Joined

Nov 1, 2007
Messages

3,879
The Chinese Freshwater pearls seems to be getting better and better. This last year I have seen Chinese vendors list "Freshwater Akoya Pearls". To some this was thought as misleading because Akoyas are salt water pearls. So from the website of Kong's pearls I am listing the explanation of how the term "Freshwater Akoya Pearl" has come about for anyone interested and a picture of the new freshwater Akoya pearls. I am not promoting them as I have not knowingly bought any yet and do not know what type of processing they undergo. But they are IMHO beautiful. Your thoughts?

"Fresh Water Cultured Akoya Loose Pearl for sale! Today I'm about to introduce the Chinese Freshwater Cultured Akoya Pearls to you!!!
It is a totally brand new way to culture pearls! We import Japanese Akoya Pearl oyester and culture them in lakes.
Let's make a comparison of Japanese Akoya pearls, edison pearls, Freshwater Akoya Pearls.
The common ground is that all of them belong to nucleated pearls. They have nuclear on the inside.
Japanese Akoya pearls grow up in seawater . Edison pearls and Freshwater Akoya pearls grow up in lakes and rivers.
Japanese akoya pearls and Freshwater Akoya Pearls grow up in the same kind of pearl oyster, while edison pearls grow up in fresh water pearl oyster.

Freshwater Akoya pearls have amazing luster, basically as strong as Japanese akoya pearls. Very nice luster as well. But the price is very much
more affordable than Japanese akoya pearls."