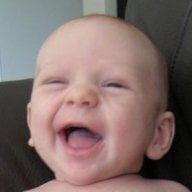 Joined

Feb 27, 2006
Messages

3,136
I think we have around 110 days to go. I''ve had so much wedding anxiety over the past two weeks, and I just feel like there''s an overwhelming amount to be done.
We need to order the invitations, but seeing as the restaurant wants us to put entree options on the response cards we need to decide on what entrees we want. But we can''t do that until their chef decides what the spring menu is, and I think that he doesn''t entire "get" that wedding invitations need to be ordered and sent out relatively early. Fortunately they have a special events coordinator who is on top of him.
And I need to book a florist, and my mom told me that she''d take care of certain things related to that (once again, because I''m out of town), but she''s recently moved out and is looking for both a place to stay and a new job. And I just don''t feel like it''s reasonable to ask her to do but so much right now -- she had more than enough going on.
And we need to find bagpipers. FI tried to find one about three months ago, and everyone he contacted told him that it was too early for them to commit and to try again in a few months. I tried to contact some again last week, but half told me that it''s still too early for them to commit and the other half told me that they''re already booked.

This is just ridiculous.
And then I need to try to figure out when I can get fitted for my dress, and I need to arrange for hair the day of, and a ton of other stuff. And the fact that the wedding and my dress are a few states away makes fittings and hair trials and whatever so much harder to schedule.
And bridesmaids gifts. I can buy them presents, but seeing as they''re all still in school or in first jobs, I thought it would be better to take care of some of their expenses and to give them small, inexpensive but thoughtful presents and notes. I''m asking very little of them in general (just that they be there and look reasonably well groomed), and they''re voluntarily incurring expenses that I thought it might be nice to take care of for them -- for example, they all said that they''d like to get their hair and maybe nails done professionally. One of them wanted to wear matching dresses and the other two didn''t care, so they''re now wearing matching dresses and I was also thinking about paying for part of those. But then I read on the Knot that anything for your wedding isn''t a present; it''s just something that you should pay for. And so I''m wondering if I really need to find something else.
And we need to figure out the guest list. We have a tentative list down that I''m frankly not comfortable with. It''s really what contributed to my earlier freak-out today. FI and I wanted a cap of 50 people. For me, I feel like it''s a very intimate and private occasion and I just don''t feel comfortable having lots of people there. I''d seriously elope if it weren''t for the fact that it would make his grandmother (and thus him) very sad. But somehow we have over 100 on the list. His parents just made a cut or two without me asking them to, which I really appreciate, and I just cut 9 of our friends from the list.
And I feel like everything''s turning into a minor fight. It starts out with my parents telling me that it''s my special day and I should pick what I want, and then when I do they don''t like it. Even when it''s things that I''m not sure how they could possibly disagree with. Like our invitation wording:
Doctor and Mrs. John Doe
request the pleasure of your company
at the marriage of their daughter
Blenheim
to
Mr. Blenheimboy
son of Mr. and Mrs. Blenheimboy''s parents
Saturday, the twelfth of May
two thousand and seven
at half after eleven o''clock
venue name
and afterwards at the reception
And I''m not really comfortable with the amount of money that we''re spending, and everytime I find a way to cut costs my parents tell me that they don''t want to cheapen the look of the whole wedding by doing _______. For example, when I told my mom that I didn''t want to make the bridesmaids spent $250 each on dresses, she told me that since they''re standing up in front of everyone it will cheapen the look of the wedding if they''re not wearing expensive dresses. I ended up going out with just my bridesmaids and letting them pick a dress, which thankfully ended up being much less expensive.
And I decided to go to the Knot tonight to see what their to-do list said I still needed to do. Major mistake. Over 100 items on the list.

Neither of us particularly feel like doing any of this, either. I think that my reluctance is mostly stemming from the fact that I didn''t even want the big wedding, but at the same time I feel like if we''re going to have one we should go ahead and do the things that we''re "supposed" to do.
And I''m feeling overwhelmed with graduate school, and I''m wondering if it was really the right choice. I''m struggling academically for the first time, and I''m having so many problems wrapping my brain around certain concepts.
The one thing that I''m really feeling good about is that we have what
I
consider the most important stuff taken care of. We''ve gone through premarital counseling and we''ve spent the last two weekends discussing budget, long-term investing goals, financial changes, etc. And we''re on the same page.
I have no idea where I''m going with this, but I just needed to get all of it out. And I''m sorry for all of the sentence fragments. Any ideas for helping me stay sane? Please?