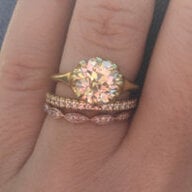 Joined

Mar 20, 2003
Messages

3,376
So many people have mentioned buying new places . . . how''s it been on the opposite side of the coin?

We put our place on the market a couple of weeks ago expecting to have our open house last weekend. But then we couldn''t schedule our bathroom reglazing right away, so we postponed it until tomorrow. We''ve had maybe six showings so far, which is great, but we are still living here, so it gets kind of annoying.

We had one scheduled for 12:30, so I left at 12 and came back at 1:30. Then I''m talking to my husband on the phone at 2:30, who has irritated me by telling me that a bunch of his friends are going out to lunch but he won''t go without me, and then the second I said I had already eaten he said OK he was going with them. I was like, don''t say you won''t go without me if you will! Then there''s a knock on the door, and I open the door to a couple with a cheery realtor who announces, "We''re here for the showing!" Look, I know I want to sell my place, but I was already irritated, so my reaction was, "But that was at 12:30." Then I made them wait outside for a minute while I hung up with my husband and told him how irritated I was with all these showings, which they could probably hear. I let them in and announced I was heading out. The realtor assured me I could stay (yeah, like that wouldn''t be awkward in 700 square feet) and then made some lame excuse about how they had to drive up here from three hours away. Shouldn''t they have called to make sure it was ok to be 2 hours late?

So who knows, maybe my negative energy prejudiced them against my place. I do feel bad that I was so short with them; I''m just tired of having to leave all the time. And I could have easily been in the shower (with the bathroom doors open because otherwise it gets too misty in there) and they could have let themselves in with the lockbox key . . . I would NOT have been happy then! I do need to shower, but now I am paranoid and think I''ll wait until my husband gets home.

I just hope we sell soon. We move in two weeks, so we have no reason to wait. I think our place shows well, and although there has been a glut of condo conversions in our area, ours is a unique building at a great price-point compared to the houses and other condos around here.

I''ll be disappointed if we don''t get any offers after the open house. I know the market has changed -- when I bought my place you HAD to make an offer immediately after the open house if you wanted to have a chance. The only other similarly priced condo in our neighborhood just reduced its price by $5k, so maybe that is a sign that I''m being too optimistic. But since we''ve had so many showings already, I don''t feel like the problem is that nobody is looking. And those were mostly before the bathroom was done, so now there isn''t anything subpar about our place.

So we''ll see. I''ll keep you all updated.

So how''s it going for everyone else trying to sell?