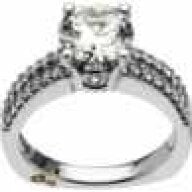 Joined

Jul 31, 2006
Messages

150
In a previous post I talked about a girlfriend who I had issues with...she was also my BM.
https://www.pricescope.com/community/threads/im-soooper-pissed-and-need-to-vent.50378/
The more we talked the more it seemed more confusing to me why she was mad. She kept telling me what was wrong with the MOH i did pick. When we ended our last conversation, she told me that i'd betrayed our friendship and we would never be the same. The words hit me hard...partly because I felt this was all blown out of porportion. Even if they were out of anger, why not talk to me for months!
Well we hadn't talked since October until now. Another friend opened up the door way to let us get issues out. I basically told her I didn't understand why she made everything into a big deal and now we are here. The gist of her argument is that we are both to blame.(i don't agree but whatever) Well in my last email to her, I told her that she shouldn't worry about being in the wedding anymore, instead we need to focus on becoming friends again. I "think" I want to be her friend...I just wouldn't feel right by having her pay money and everything else right now.The thing about me is that if I'm angry or hurt I really can't fake a relationship with you and that's what I'd be doing if I let her continue her duties. What do you think? What would you have done?