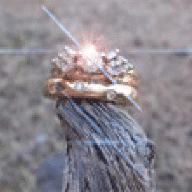 Joined

Mar 2, 2010
Messages

1,229
Ok, so I've decided that I would like a 5 stone to help celebrate my 20th anniversary. Now that anniversary is in 3 years (yay for planning ahead!), so I have time, however....I have priced out a five stone at my local bench (and have looked at the typical PS vendors) and the range is in the 4k. Saving about $100 each month will get me close and hubbs would have to fork over the rest.
Here's the issue:
I want 1.5 tcw, but I'm not sure how realistic that is given inflation and going fwd 3 years.
So today I found a 5 stone today at a pawn shop. The diamonds look clear, a bit tinted (but it's all yellow gold, so I think they are picking up some of that tint)...Here's a picture: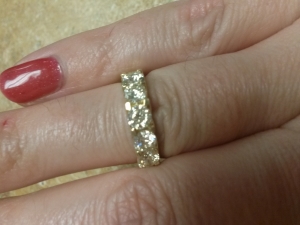 And it's $1620 after taxes and the weight is 1.58. I'm debating on trying to convince hubs to go for it or just pass it by. Here are my concerns: The tint of the diamonds, they are pretty clear (I'd like to look at them through a loop), and against a white paper to see for sure. I want the carat weight. The band is wide, which is what I want....thoughts? I know the picture is bad (ugh for a cell phone picture)....