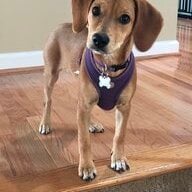 Joined

Jan 18, 2005
Messages

3,546
There's a halo bezel ring that I'm contemplating buying and I have a few questions from the bezel experts
It's a bezel halo setting and it currently has a .50 carat diamond in it. The jeweler said that it wouldn't be a problem or damage the bezel to remove it and set mine. I had always read that once a diamond is removed from the bezel that the piece is a goner. Is that incorrect?
The bezel holds a 5.5mm(.50 carat) diamond and mine is 6.01-6.03mm (.80 carat). When I told this to the jeweler, they said no problem, that it would fit. The actual bezel is somewhat thick, and I was hoping to have it thinned out and probably milgrained. Again, I thought for a bezel that the bezel had to be made to fit that diamond. Am I wrong?
I guess everything I've read on PS over the years contradicts what I was told today

The jeweler is a very reputable one so I don't have any reason not to believe them. They are currnetly double checking with a benchman to make sure it would fit correctly.
Thank you!
Feb03Bride