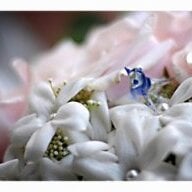 Joined

Oct 12, 2006
Messages

527
Hey Ladies!! Oh how I''ve missed you this past weekend (I know.. its only been 3 days! LOL)
But.. I am happy to report.. that my first dress fitting is done! and I come bearing PHOTOS!!!
Can I just tell you.. I am sooo flippin excited!!! I honestly cannot remember EVER looking in a mirror and not having something critical to say about myself.. until this past Friday... Life is sooo good right now...
So.. sit back.. relax.. and enjoy the picture show!!!
I love this pic.. it shows 3 different views!