Hi everyone!
Original post where you lovely people helped me is here
http://www.pricescope.com/forum/topic163529.html
So decided on a nice 1.45ct Square cushion H&A diamond from
GOG
and they told me they also do custom settings and as such have been waiting patiently for my first CADs.
The brief given was based on the verragio design below, with as little metal showing as possible.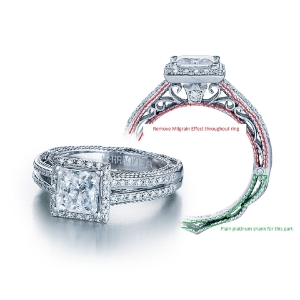 The initial CADs from
GOG
are below:
Center stone is 1.45ct - melee are 1 pointers (0.68 tcw)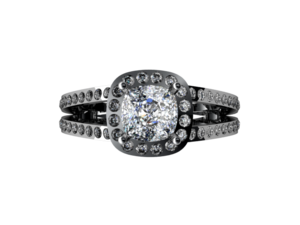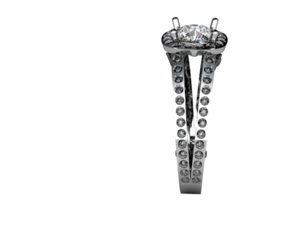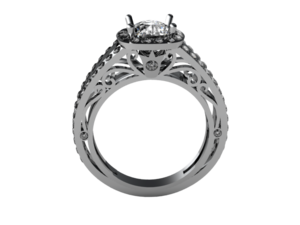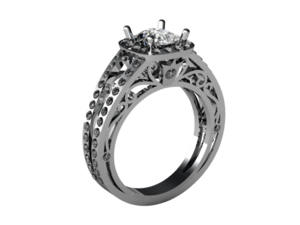 Just wanted to get your opinions so I could ideas for improvement over to
GOG
in one email
My main issues are:
1) There looks like an awful amount of metal on the CADs? (I've done a few CAD pieces in my time and it just seems a tad chunky, also dont see why they didnt render it before sending it over to me!)
2) I think the halo should be angled from the centre stone? About 30 degrees?
3) The split shanks should start a bit closer together from the halo? i.e less space in between them when looking from a bird's eye view
4) The prongs seem hugely unsightly and completely different to the verragio ones - I was thinking perhaps single claw prongs?
5) The surprise stones at 12, 4 and 8 o'clock seem a lot smaller relative to the verragio - this is probably due to the CAD right?
6) I'd really like some advice on size of the halo and width of the bands? I'm a ring novice
Muchos gracias guys and I'd appreciate any advice/comments!