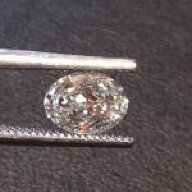 Joined

Jun 9, 2011
Messages

203
So, my BF and I went looking at rings for the first time today. He didn't break up with me after it, so that's a good start, but I do feel bad for the poor guy because I think finding what I want will be difficult...
I have bigger fingers (size 9), and kinda particular tastes - I want a solitaire, I think I want a bezel setting or at least something very low-set, I like RB diamonds but am also very interested in some kinda more unique shapes (ascher, rose cut, old mine - I'm not a very sparkly girl), I don't want it to look too modern, but I do want it to be "sleek" or a little contemporary.
We went to 3 stores - 2 were locally-owned and one was Jared because it shared a parking lot with one of the others. I was kinda disappointed. Only 2 of the stores had bezel settings, and they did not have many of them (Jared had none. Totally unimpressed with them. The sales guy also told me the facet patterns on all cushion cuts are the same, which I know is simply not true - I was hoping to see more of an antique-cut cushion rather than a brilliant one). Only one store had any aschers in their inventory. None of the stores had rose cut diamonds in their inventory, and 2 of them didn't even know what a rose cut diamond was. I did see one ring that I really liked, a very plain bezel-set RB ring that was hardly elevated off the finger at all. My BF and I particularly liked that the diamond looked very large in that setting even though this particular ring was only 1/3 ct.
So, 2 questions. How should I probably go about getting what I want? We were impressed with the customer service at one store - they have a great warranty and trade-up policy, do custom work, and offered to bring some rose cuts into the store for me to see. The saleswoman told me if I give my BF pictures of what I like, she would personally make sure he stays on the right track! It seems like I will probably need to go custom to get what I want, and I love my BF so I know I will love whatever he gets for me (in fact, I love him so much I would be happy just to spend my whole life with him without a ring - pricescope hearesy I know!), but I also know I am a little particular... Maybe lots of pictures with notes on what I do and do not like about each... I want to give him guidance, but I want him to ultimately pick out the ring.
Second, my boyfriend thinks a good carat size would be .75-1. I personally would like to go 1-1.3, but I haven't told him that yet. I don't want to compromise cut, but I can't tell the difference between D and I in color really, and I'm OK with an eye-clean SI stone... I know the bezel will make the stone look bigger, but I still want it to take up a little real estate on my big fingers (without being TOO blingy). How do you delicately bring up wanting a bigger rock? We talk about everything, I know we can have an open conversation about it, but I don't want to seem superficial or materialistic... Maybe I just need to be able to demonstrate to him that a slightly larger stone will cost about the same if the color etc is lower. Also, I wonder if rose cuts will have a larger diameter for the carat weight...