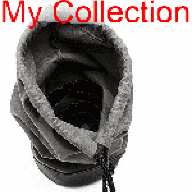 Joined

Jul 18, 2011
Messages

35
So I have questions about diamonds. But the colored variety. So should this go here or in the rockytalk forum? Who can know for sure. I have confidence it will be moved if appropriate.
Anyway. I'm getting close to an e-ring purchase. I started out expecting a VVS 1 carat brilliant colorless diamond. I lost interest. I'm considering a 6.5mm VVS light bluish green sapphire (see other thread). But what really has my attention now is fancy yellow diamonds. Something about an excellent cushion cut yellow with white diamond halo is just drool-inducing. I'm sure we can all appreciate the work from diamonds by lauren. Regardless of sales volume, I can't believe more retailers don't take the time to shoot really good photos (not to mention HD video). Of course, I work for a video ecommerce company, so perhaps I'm biased.
I realize nobody will have a good answer for this, but I'm having trouble determining the appropriate price point for these things. It's hard to buy something online with such a subjective factor to its quality assessment. Colorless diamonds seem easier. There are enough of them that, given a GIA report with known properties and a decent photo, I have a reasonable feeling for what I'm getting. Grading variation among colored stones is greater. It doesn't have to be perfectly cut and perfectly symmetrical to sparkle. It doesn't have to be free of inclusions drop jaws.
I haven't seen any Y-Z diamonds in person, but I believe that the right stone in the right setting is yellow. On the right day, some could pass as fancy light. Saying something is "on the yellow end of 'fancy light yellow'" is totally subjective. So if I'm looking online, how do I really know which FLY stone is worth 25% more than a comparable Y-Z? Just work with a reputable vendor and keep buying them and sending them back until I get one I personally like?
I've looked around at several online shops. I need help determining what's a "good buy." And I don't want to hear "for the right person on the right day in the right situation, each one is a good buy." I'll try to present this without references to the source of each, but I'm sure most of you will recognize the photography and such. In any event, let's try. I thought I could add a table via HTML (or BBCode), but I guess not.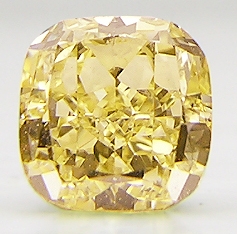 1.03ct GIA Fancy Yellow
VS1, 5.65x5.41x3.68
68% depth, 70% table
Thin-V.Thick Girdle
VG polish, VG symm
No Fluoro
$4184 ($4062/ct)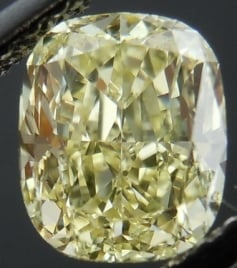 1.17ct GIA Fancy Light Yellow
SI1, 6.24x5.16x3.82
74% depth, 64% table
Ex thick girdle
VG polish, VG symm
Faint fluoro
$4975 ($4252/ct)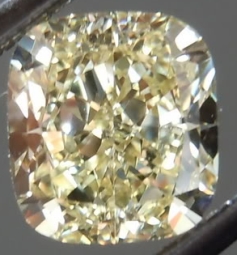 1.10ct GIA Fancy Light Yellow
VS1, 5.99 x 5.46 x 3.69
67.6% depth, 67% table
Sl thick - Ex thick girdle
VG polish, G symm
No Fluoro
$4675 ($4250/ct)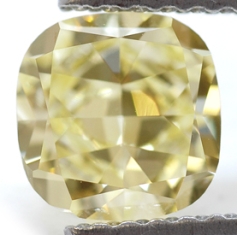 1.08ct GIA Fancy Light Yellow
VS2, 6.11x5.96x3.61
60.6% depth, 72% table
thin-v thick girdle
VG polish, G symm
Med Blue Fluoro
$4575 ($4236/ct)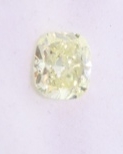 (obviously not the best photo)
1.24ct GIA W-X
VS2, 7.12 x 6.16 x 3.45
56% depth, 66% table
thick-ex thick girdle
G polish, G symm
Faint fluoro
$2239 ($1805/ct)
Ok let's start with that collection. I failed to find any good Y-Z examples with photos. What do you think about those choices, and the associated prices? Which one would you buy for my purpose (platinum shank and halo, both with pavé colorless diamonds, YG basket/prongs)?
What other advice do you have about choosing a fancy yellow diamond in this price range?