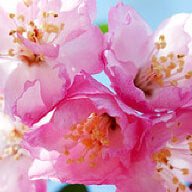 Joined

Nov 12, 2006
Messages

1,084
Yay!!! The obsessing can stop
I ended up ordering from Papersource and I''m so excited!
Pictured is my inspiration invite.
My plan is to make a square dbl layer invite but also add a third
faux
layer created by printing a border around the top white layer (so it''ll end up going, from center out, white center, lilac border, bit of white again, brown backing). I will emulate thier text format (making the text right justified and also having everything but our names in all caps) but have already chosen a prettier, in my opinion, set of fonts.
My favorite part: For the cherry blossom branch, I ordered a stamp and will first ink it with chocolate brown and then detail over the blossoms with a nice light lilace that hopefully will darken a bit when mixed with the brown (it will certainly add character to the image). Lastly, we want to emboss the cherry branch since the rest of the text will be flat. Our return address on the back flap will be embossed but I''m still looking at products to do that with. All other printing will be using our printer and we''ll use the same font as our names depict.
Wanted to share my good news

It took me SO long to get to this point!!!! Lots of you may remember me going back and forth on the DIY track lol.