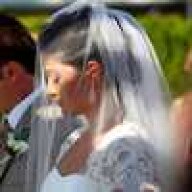 Joined

Jul 6, 2004
Messages

428
So I picked a dress!

Finally! This one is truly mine, I put the deposit down and everything, so this is it! It's final. No more looking. And it's completely different than everything I've looked at or shared here with you all. I kinda had second doubts afterward just because it is not like all the other dresses... not poofy, no pickups, no sash. It's funny because I started to like the pickups and sashes less and less as I shopped. Especially towards the end. I just wasn't into them anymore. I really wanted something that was classic and elegant but not stuffy... I guess understated in a way. I'm hoping this dress portrays all that. It seems a lot plainer and simpler than the other dresses I tried on which worries me now because I really wanted a *wow* dress, if that makes sense.

Anyways, here it is!

It's by Lea-Ann Belter (www.lea-annbelter.com) and the style is "Lois"

Description: A strapless sweetheart neckline with a slim fluted A-line skirt and chapel train. A satin ribbon ties around the waist and hangs down with a bow. (I'm removing the ribbon... it totally cuts me off and I think the dress looks less cutesy without it.) The entire hem is embellished with a wide border of Alencon lace.
Oh and it is made of silk duchess satin... the fabric is 100% silk and it is devine!! Plus it has covered buttons that go all the way down the backside of the dress, which I love.

Here it is on the model. Believe me, it is much more gorgeous in person!
On me (I'm holding my hands like that because I'm covering the ribbon

)



lace detail on hem



train



I'm customizing the dress a bit to make it truly my own... I'm adding scalloped lace straps (so imagine two of them) and I'm having the buttons moved closer together (they're kinda spaced out) so there will be more buttons.




I will have my hair in a loose low chignon/updo with a simple single tier cathedral drop veil pinned above it.





So that's it! I'm so glad I was able to take several pics of me in the sample because the camera died after a few minutes. I get to meet the designer (Lea-Ann Belter) next month which is really exciting and I'll try to take more pics then. Thanks for all your help and opinions during this whole process!