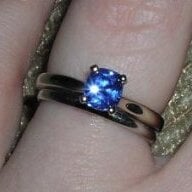 Joined

Jun 19, 2005
Messages

217
HI All,
Long story short. In November of 2005 I lost my .80ct VS2 F color Ben Bridge Signature cut RB diamond. She took a swim down the shower drain and was unable to be found. It was insured so the search was on for the replacement ring. Hubby and I ended up putting it on hold for a bit due to work schedules and such (he is in the military.) So here we are. The lost ring was $6000 and that is what we got from the insurance co. After looking here and looking there, calling this vendor and that vendor Hubby just went out on his own and bought what he thought looked good to him. He did a wonderful job!

GIA Report Number: 15674453
Report Type: GIA Diamond Grading Report
Date of Issue: February 20, 2007
Round Brilliant
Measurements: 6.46 - 6.50 x 3.87 mm
Carat Weight: 0.97
Color Grade: F
Clarity Grade: VS1
Cut Grade: Very Good
Proportions:
Depth: 59.7 %
Table: 54 %
Crown Angle: 33.5°
Crown Height: 15 %
Pavilion Angle: 40.4°
Pavilion Depth: 42.5 %
Star length: 50 %
Lower Half: 75 %
Girdle: Very Thin to Thin, Faceted
Culet: None
Finish:
Polish: Very Good
Symmetry: Very Good
Fluorescence: None

It is set in a 2mm plain 6 prong platinum setting. My wedding band is a 2mm platinum band so they match very nice.

I put the numbers into the cut advisor and it came back excellent in all areas. It is a very pretty diamond, I love it. So the big question. Do you think he got taken? The stone was $5800.00 and the setting in platinum was $400.00.