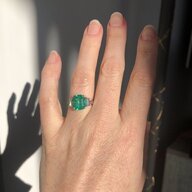 Joined

Sep 25, 2008
Messages

2,912
Howdy everyone!
I would love some advice on this.

I have about 4 or 5 gold rings at home that I don't often wear - varying from 9ct up to 18k yellow gold. Some are with brilliant cut melee diamonds - maybe about 15-20 in total.
What I really want to to be able to set some of my gemstones but I don't have much spare cash at the moment (about the move house) so I wondered if I take all my rings to a jeweller - would they be able to "off-set" the cost of a new ring (simple solitare style) against the value the gold and diamonds of my existing ones? Or will I be laughed out of town.....
I took them to GoldBuyers but the guy there was really honest (suprising I guess

) and said they would be worth more to a jeweller due to the diamonds.
I had two bad experiences selling on ebay so would like to avoid that if possible.
Is it possible to do this - recycle existing rings by using them as payment for a new one?