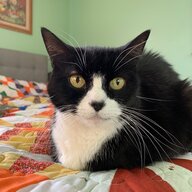 Joined

Aug 14, 2018
Messages

2,870
I will probably reset this stone so am putting out feelers for the setting. Here is the listing for when I was trying to sell the whole ring:
Deep breath. I am thinking of parting with my 2 ct OEC (aka Chippy). I love this ring; the main reason I am selling is to specifically buy another vintage ring that I have fallen for. I am worried it might sell before I'm able to sell mine, so if it does I'll take the listing down. IG video -...
It is a vintage platinum setting with tapered baguettes. Baguettes are .24 ctw and the setting is 2.7 DWT Size 5.25. When I put the ring on the scale is weighs 4.14 grams.
If I had a buyer I would send this item to DK for him to unmount the stone and he would send to you; the cost of his shipping has been (for me) roughly $30 when he provides the UPS label and insurance. Since this is setting only and not an entire ring, I don't know if the shipping would be less. But I would estimate $30.
It holds an 8mm stone right now. The baguette are about 4.2 mm long when I measure with calipars but they are difficult to grip.
Contact me directly from one of my LT listings
Asking $700 plus the cost of DK's shipping. Paypal F&F or pay the extra 3% to use regular PP.