I am in the market for a Sapphire Engagement ring. I have chosen this ring by Maytal Hannah as my inspiration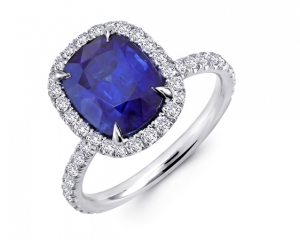 I'm looking for a cushion cut Royal Blue/Ceylon sapphire for the center stone, somewhere around 2cts. I'm also looking to have the setting custom made and incorporate some diamonds from a piece of my grandmother's jewelry.
With this in mind I went to a B&M jeweler on the recommendation of a family member and met with the craftsman who works there to explain what I wanted. We had a very good initial discussion, and he indicated he would begin contacting his sources for sapphires.
We met a few weeks later when he had some sapphires for me to inspect, and what he had to show me was:
2.25ct Ceylon for $5850
1.80 ct Sri Lanka $7200
2.42 ct Sri Lanka $10,000
Pictures:
https://drive.google.com/folderview?id=0B8BvXU9xMpS8VEltb2xZR05CMmM&usp=sharing#grid
Unfortunately the pictures aren't the best for ascertaining quality/value, but it's all I have. None of the stones came with any type of certification or grading.
He indicated to me that these sapphires represented "top quality" for their respective prices - basically I could not find a better quality stone for the price(s). I'm a novice at best when it comes to gemstones, but as I inspected the stones I became a bit concerned with the integrity of his statements. Specifically because of the 2.25 ct Ceylon - the girdle is clearly chipped in more than one place. What you can't see is that stone had a rather large window in the center, with two eye visible inclusions in the center of the stone that were exacerbated by the windowing.
I couldn't understand why he would be showing me any chipped stones for an engagement ring, much less a stone that represented "top quality" for the price. It made me question his representations about the other two stones as well.
He also had apparently forgotten our previous conversation where I requested had indicated wanting a custom made setting, and told me that whatever stone I bought it would REQUIRE a custom made setting as there would be nothing premade that could fit any of the sapphires he was showing me. At that point I began to think perhaps his statements were disingenuous, so I finished looking at the sapphires, politely thanked him for his efforts and told him I'd be in touch.
What would be useful for me is some general feedback on the accuracy of what was being presented to me. Are the prices he quoted me reasonable for the cut/size/color I'm looking for? Should I expect that kind of quality (chipped girdle) for that price range?
Would I have better luck buying from an online vendor, or buying direct from a cutter?
Also, I don't know how to get around the custom work I would need to fit my grandmother's diamonds without going to a B&M jeweler - can anyone recommend someone reputable in the Boston area?
Thanks