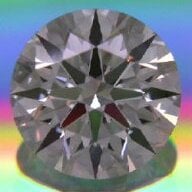 Joined

Feb 22, 2003
Messages

3,441
I found this one and am curious about expert opinions on the effect the feather in this diamond might have on appearance and/or structural integrity. I don't recall reading much about feathers.
"Round brilliant cut DIAMOND that weighs 1.37 carats, by scale. The color is "J", in the near colorless range, and it was confirmed by a color grading machine (Gran Colorimeter). The clarity is "I1" and the inclusions are very difficult to see with the unaided eye. This diamond is well cut and it exhibits good brilliance, dispersion and scintillation.
WE HAVE COVERED UP PART OF THE ONLY SIGNIFICANT INCLUSION (A FEATHER) WITH ONE OF THE PRONGS TO MAKE IT EVEN LESS VISIBLE; YOU CAN BARELY SEE IT EXTENTING FROM THE LOWER LEFT PRONG IN THE PICTURE ON THE RIGHT. PLEASE KEEP IN MIND THAT THIS PICTURE HAS BEEN ENLARGED ABOUT TWENTY TIMES, AND THAT THE FEATHER WILL BE MUCH HARDER TO SEE WITH THE UNAIDED EYE.
Here are some approximate measurements: Average diameter: 6.97 mm. Table size: 62.8%. Total depth: 4.47 mm. Total depth percentage 64.1%. The symmetry and polish are good and the culet is very small (good). The girdle is medium to slightly thick and faceted (good)."