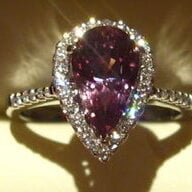 Joined

Jun 29, 2008
Messages

10,228
Fellow gemlovers ......... I have a confession!
I've had a project "on the go" for about 2-3 years now. For some reason, it keeps slipping back in the queue and while getting my FCDs together for my earrings, I found these diamonds nestled away, looking lonely and begging to be set!
These diamonds are slightly larger but 3 of them are irradiated (the red/brown centre, the big blue and the square green). All the others are natural/untreated. I have a few other yellow/white diamonds that I can throw into this as well. I do wonder if this may date quickly and be a bit too ostentatious? If so, should I consider a similar design to TL's stunning multi diamond ring?
So, my question is, do I do (a) the ring and if so, what design (b) the earrings or (a) and (b)?
To help you decide, I'm attaching the inspiration photo for the ring I want to make and then my diamonds next to it.
The earring diamonds are also next to the inspiration photos (but I've found some small round pinks and square oranges that I will throw into these as well that are not in the photos).