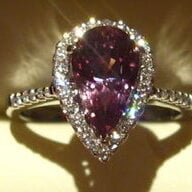 Joined

Jun 29, 2008
Messages

10,228
I'm so pleased to have finished this project! After many years of collecting FCDs I've accumulated so many small ones that I wasn't sure what to do with them. Thanks to the input of some lovely PS'ers, I decided to make a pair of earrings and took inspiration from a couple of photos posted by Pregcurious and Aoife.
The finished earrings are about 1.5" in length so a good drop and sparkle really well (but this hasn't been captured in the photos at all

). They are made in 18k white gold and all the diamonds are natural (not irradiated). In the shank the diamonds are a mixture of white and very pale pink (although the photos have washed out all the pink)! The earrings have been made so that I can change the top of the earrings and use "tops".
My only reservation is the pinking all around the edges. I'm just not sure whether I like it or not and whether a smooth finish would have looked whiter and more modern. I can always get them changed at a later date but I'm going to live with them for a while before I make a decision.
Apologies for the quality of the photos!