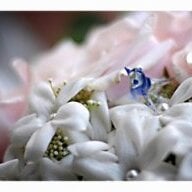 Joined

Oct 12, 2006
Messages

527
My mother has become favors OBSESSED!!!
I am trying really hard not to get upset.. cuz frankly.. I dont care about favors... Fi and I have picked two... Krispy Kremes and a Cd... my mom wanted Jordan almonds.. ok.. fine... I can handle that..
lastnight.. she went wacko.. apparently she had found a catalog that had some cool stuff (her opinion.. most def. NOT mine)... and she wanted it all.. so here is the run down...
1. Cd''s
2. Krispy Kreme''s to be handed out as guests leave
3. Jordan almonds (only five per guest)
4. Votive candles at every place seating
5. bell''s at every place seating (for kissing!)
6. rose petal cones on every seat at the reception for toss when future hubby and I exit
7. bubbles at the ceremony...
8. (yes.. I said 8!!) Bowls of mints scattered all throughout the reception
Now.. dont get me started on the fact that she wants everyone to blow bubbles while future hubby and I walk down the aisle after we are married.. (um.. who wants big bubble stains on their dress right before sunset pictures? raise your hand...um.. NO) and dont get me started on the fact that the bottles of bubbles she picked look like TEST TUBES!!!
Its gonna look like we are running a high school chemistry experiment out on the beach!
and as much as I told her that it was all just too much.. and a waste of money.. she said (and I quote).. "you just hush.. you need to take advantage while I''m payin for stuff" grrrrr
I made her SWEAR to me today that if it all looked too busy.. that we wouldnt use them all...
I''m currently in Favor hell!!!