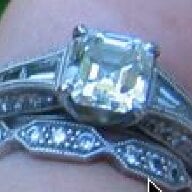 Joined

Jul 27, 2005
Messages

11,534
Hey PS pals!
I have a (hopefully) brief break from freelance gigs & a bit more time to post. While I was away my mom & I came upon an unbelievably gorgeous lacy micropave cigar band/eternity band with a unique scalloped edge. We would have walked out of the store with it in an instant except that it was several sizes too small. Here's the catch -- the Hong Kong designer won't make the ring in larger than a size eight. My mom needs 9 1/2. SOOOOOOOOOOOO .... we're looking for something JUST like it! I don't have any photos right now & am not sure the store would even let me take some. It was kind of Beverly K meets Cathy Waterman meets Beaudry. SERIOUSLY. I can't find anything even CLOSE to it. Also, the store won't tell me the designer's name. Gahsville. She doesn't even like diamonds so much but this blew us both away. Has anyone seen anything like that description? (Price range 2.5-3K ... maybe more if fab).
I love it so much I almost wanna go back and buy it as a pinkie ring! However, I am not a pinkie ring gal. And I don't think my mom is either or she probably would have already bought it.
Idears? TIps? Beefy finger sympathy?