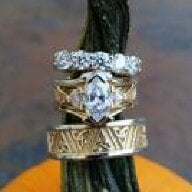 Joined

Feb 6, 2009
Messages

2,181
Help! I am completely at a loss here!

I can''t find an appropriate gift for my father. I want a keepsake, something he will like and use. He''s a hard rock guy - not mushy or really sentimental, but is an exec is a bio-tech engineering company by. I still want it to be something special.

My father really didn''t raise me, our relationship has only recently been renewed. He lives cross-country, so that makes it difficult. However he is travelling in for the wedding and IS walking me down the aisle. So this was important to get something that he would use and remember the day by..............

Any ideas anyone? I''ve looked at all the personalized stuff and it didn''t seem to fit. I don''t want cheesy or too mushy........ hmmm.....

Everyone else is done. He does like art and nature. So I have looked at one of a kind sculptures and stuff like that, but its hard!!!