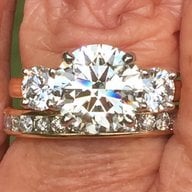 Joined

Jun 23, 2005
Messages

15,775
@nala

,

At one time, it could be plausibly argued that DeBeers was the entity who "called the shots in the diamond industry". But that ship sailed long ago with the dismantling of their near monopoly. Today there are numerous competing interests vying for market share in the industry. So, identifying a responsible party becomes harder, and it becomes more likely that a collection of major companies are simply making decisions based on their individual business needs and the needs of their stakeholders. For instance, many companies have had to make hard decisions between launching new product lines or laying off workers as the global economy convulsed.

In fact, there are now two competing industries - the miners and the growers. And given the rather adversarial relationship, there is little reason to believe there is any kind of collusion taking place, or even collaboration aimed at crafting the overall market. They are all just engaged in fierce competition, both with one another and with the opposing industry. The cutting industry is where the two come together, but can anyone blame cutters for cutting whatever rough is available and in demand by consumers, rather than idling their factories and sending their people home without a paycheck?

We are all watching it play out. Which is pretty interesting in itself! Where it eventually lands is a question that everyone in the business, and consumers as well, are trying to predict. Fortunately, we have analogs that give us clues. Synthetic sapphires and rubies are abundantly available in top colors and clarities today for very little money. Yet there is still a completely separate and robust market for natural rubies and sapphires because those markets have matured and stabilized. We are still in the early days of the LGD market and it has not yet settled into equilibrium.
@Texas Leaguer
, thanks for chiming in on this thread. We can all make assumptions about today's market and yet none of us completely understand the business of diamond sales. In today's market, there have to be many decisions being made regarding what to buy, what to stock, and what keeps the money rolling in and business afloat. No one has a crystal ball to know exactly what happens next - an educated guess is their best line of defense. I understand the need to have what sells and only hope that the natural diamond market doesn't fall by the wayside. I don't think it will in the short term because as I have said, I don't think this scenario has played out yet. This is uncharted territory for all.
I also think this deserves a bit of soul searching in terms of what folks have purchased and what they might purchase in the future. You need to know in your heart and mind which of the attributes of EGD vs. LGD matter most to you. While the falling prices of LGD might be disheartening to some, it doesn't matter to others. Diamonds are not a necessity in either form so require thoughtful consideration as we move forward. Value is not always equal to dollar amount so we all have to determine our own meaning of value.