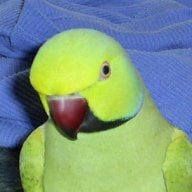 Joined

Jul 14, 2006
Messages

2,037
Where else except pricescope could I tell this story:
I got a bit of an eye infection, so today I went by my doctor to get some drops for it. He examined me and told me he was going to do a test to see if I scratched my eye cornea. The test would be where he put some drops in and shined a black light on my eye to check for a scratch.
As soon as I heard about the black light I was excited - I knew just what I would do! My diamond has strong blue fluorescence and I don''t own a black light. First thing when he was done looking at my eyes, I asked him, "hey wait a minute, can you shine that light on my ring?" He gave me a certain look, but went along with it and my stone lighted up like crazy!! It was so cool. My half eternity diamonds must be no flo, cause they didn''t do anything, but my solitaire turned glowing white/blue. More white than blue. I explained to him about the fluorescence of diamonds, etc. It was so luminous. I only wished I had my camera on me to take a photo.
Of course that might have tested the limits of my doctor''s patience.

It was really fun and turned a yuck doctor appointment into a diamond journey.