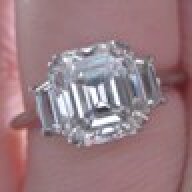 Joined

Mar 13, 2007
Messages

248
I really would like some opinions from the experts here, I value your input very much.
I fell in love with this emerald ring by a designer named Judy Geib. I don't know much about emeralds. I just know that I loved this stone & ring the minute I saw it. There is no cert on this stone or any specifics for that matter. I have no idea what kinds of treatment it has undergone. After reading up on where Judy sources her stones, I read that she does get some of her emeralds from Columbia.
I am confused because there is a huge price discrepancy in her emerald collection. I am posting 2 photos below to illustrate. Both pairs of earrings are from Barney's. The first pair of earrings describe these emeralds as Columbian, priced at almost $30,000
The second set of earrings, which also appear to be from the same collection, are described to be set with "Columbian emeralds," and are literally a fraction of the price of the first pair ($3140). I realize that there are more emeralds in the first pair, but to me it doesn't justify the huge price difference. Could someone please weigh in on why that is? If all the stones are sourced from Columbia, is the price difference due to the color?