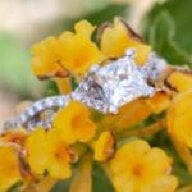 Joined

Mar 25, 2011
Messages

247
So here's the "short" story: I'm a practicing Jew and FI is a non-practicing Catholic, and we've decided to incorporate different components of our faiths into the wedding.
Since neither FI nor his parents are members of a church at this time, FI's parents suggested going to his Grandfather's church to find a preist. So we went to meet with this priest to arrange for the date, the paperwork, etc. During the visit, we found out that the preist requires a "donation" of $750 for an off-site (ie. not using their chapel) wedding, for which he is co-officiant with my Rabbi.

Is this normal?! To say a blessing and send our paperwork to the pope--$750?!
If you all don't mind me asking, what did you have to pay for your off-site officiant? Should we be looking elsewhere? I am strongly against staying with this church... to be honest, I didn't love the priest at all (he met us in his gym clothes, for goodness sake) and I was abashed by the concept of a mandatory donation!

Maybe I'm a little hot-under-the-collar about this because FI's family, who is advocating staying with this priest regardless of the "donation," has not set a foot forward to offer to help pay for the preist. In fact, whereas my parents are contributing upwards of 30k, his family has so far committed to $3k for the photographer. That's it. But that's a story for another day
and I promised myself I wouldn't let it get to me...
My resolution is that we shop around for a new priest, presumably find someone willing to accept a lower "donation" and have FI offer it up to his parents; if they are that adamant, they can compensate the difference for his Grandfather's priest, and if not, we will save our money.
I hope I'm not being insensitive, but FI doesn't even know this guy and he didn't make a great impression on either of us. FI however just wants to please his parents... I don't know what to do.
Help.
Thoughts?