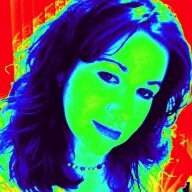 Joined

Aug 8, 2006
Messages

101
I''m feeling better about the idea of getting engaged and married again!! And with some of the things my b/f has said lately, I''m HOPEFUL again!
We were watching the Superbowl, and he told me about a guy buying a commercial to propose to his g/f. I mentioned that they were pretty expensive, what if she says no. He said, "Well, they probably have a relationship like ours. What would you say if I proposed." I said "Definately yes!" He said, "Ok, well the camera crew will be here at halftime." Then I joked that the ring better be something if he paid a couple million for a proposal. LOL
THEN.. last night, he was on the phone with a good friend, and he said something about us getting a place to live, and he said, "Yeah, we are going to get married." And he nudged me and said, "Aren''t we?". I said, "I hope so."
So... it''s looking like it will happen this year for sure!! I''m all excited again. We have had some pretty awesome things happen for us, financially, and that helps to know we will have a more secure future. So I''m excited about the idea again. And to know it''s on his mind again, does help.