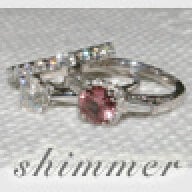 Joined

May 7, 2007
Messages

1,702
Hi,
I just want to give a review of my experience with eweddingbands.com.
I had planned to elope in the beginning of last October (the 8th). I contacted them on the 1st or 2nd and they said were able to make and ship them to Canada in time. They ended up arriving on the 5th! I ordered my FI a 5mm 18k White gold plain band and myself the 2mm.
The elopement didn't work out for October, now we are getting married in May. In the beginning of January FI started trying on his band and felt that it was too wide for his (stubby!) fingers. In the meantime, I started developing an allergy to WG again. I contacted eweddingbands Feb 1st to see if they would do an exchange, change his to 4mm and also upgrade to Platinum.
I thought it was a long shot as I did not have any of the paperwork (moved during that time) and it was several months later. Well, they were so very kind and understanding and agreed to do the exchange and now my new wedding bands are on their way--they should arrive today!

My old ones arrived to them on Monday!
I am just so impressed that they went so far above what is expected of a company. Their customer service is excellent and they process orders so quickly!
I'm just a really happy customer, I recommend them to anyone looking for wedding bands. Thank you eweddingbands!