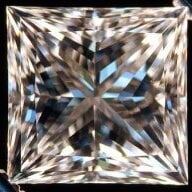 Joined

Sep 26, 2006
Messages

227
I'm trying to evaluate how to compare the spreads of these two diamonds and whether the more expensive one is worth the price difference. Please help!
#1: 1.5 I SI2 $7600
Dimensions: 6.30 x 6.34
Table: 71.57
Depth: 74.01
#2: 1.6 H SI2 $9900
Dimensions: 6.47 x 6.46
Table: 62.77
Depth: 74.31
Both are AGS0, so cut equals out. The representative (of a reputable vendor) said that the I faces up totally white and he can't really tell the difference between the two unless they're both being compared in a white tray. IRL, he thinks the I and H are comparable. (Sorry, I'm being slightly vague here b/c I don't want my diamonds snatched up!)
Thoughts from the venerable peanut gallery???
Attached is a picture of the 1.5 princess. (I'm still figuring out how to attach more than one pic to a post!)