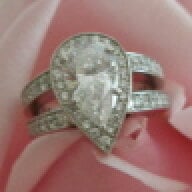 Joined

Jun 8, 2003
Messages

2,405
Hello out there.I am new to this forum, but wish I had found you sooner.I recently purchased a new diamond when I found a buyer for my old one.I think I am somewhat educated on diamonds (as compared to most folks), but from what I''ve been reading here, I sure have a lot to learn.I have been questioning my own sanity regarding my purchase and would like some input.
I have been purchasing jewelry at jewelry shows for years, and have always found them to be fun and quite interesting.Purchasing a diamond, however, proved to be more stressful than I anticipated.
My new stone is as follows:
-EGL certified, 2.07 ct pear diamond
-Color E
-Clarity SI2
-Measurements 11.48 x 6.84 x 4.54 mm
-Depth 66.4
-Table 54.0
-Crown 14.5
-Pavilion 44.5
-Girdle medium to slightly thick faceted
-Polish good to very good
-Symmetry good
-Fluorescence medium blue
-Culet none
-Purchase price $7,600
The clarity of this stone is better than I would normally expect for this clarity grade.I believe it received the SI2 because of a small feather near the girdle, which is now hidden under a prong of the setting.Other than that, it has few small white pinpoints, none of which are under the table.I was focusing on a great color since my old stone was an "I" in color, which I found annoying for more than 10 years.
The length/width ratio of 1.67 is slightly longer than I had hoped for (I like 1.60 the best), but I was lead to believe that as long as it is between 1.50:1 and 1.75:1, it is still considered excellent.The depth of this stone is what I find most concerning.Is this stone so deep that I am losing most of the brilliance?Finding a beautiful 2 ct pear and keep it within my price range was a big challenge.Any words of wisdom would be greatly appreciated.
Diamond Lil